Ohio Movers
Proudly serving Ohio since 1950, Lewis & Michael is a full-service moving and storage company. As an interstate agent for Atlas Van Lines, we have been recognized as one of the premier moving and storage companies in Ohio. We have achieved this prestigious honor by dedicating ourselves to top-tier customer service and staying on top of the latest technologies and techniques in the industry.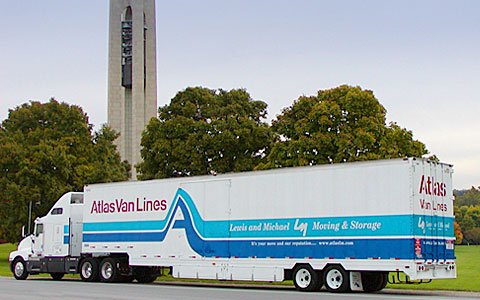 Lewis & Michael has three locations in Ohio to serve you.
Since 1950, we've been gaining experience in all types of local, residential, office, corporate, interstate and international moves. We've helped families move to new towns in Ohio; we've coordinated international relocations; libraries have requested our assistance in moving. Our thousands of feet of climate-controlled, secure storage are the perfect options for long-term or temporary storage.
If you think you have a tricky situation or a unique question, don't worry! We have seen it all in the last 50 years and are ready to offer you our expert advice. Our friendly moving counselors are just a call or email away.
When you're asking your search engine "who are the best movers near me?", look no further than  Lewis & Michael. We're here to answer all your storage and moving needs.
Moving Services
When you book a move with Lewis & Michael, rest assured that you are hiring the best professional movers in the state of Ohio. Whether you're hiring us for office moves, assist in local moving, or providing long distance moving service, you can count on our expertise and dedication to customer service.
Local Moves
Lewis & Michael has performed all sorts of local moves around Columbus and Dayton. If you need a full suite of moving services or just a little help moving some big items, we're here for you.
Long Distance Moves
Moving cross country, out of state or out of the country? It can be overwhelming, so let the long distance moving experts at Lewis & Michael help. Our moves come with a moving counselor and tracking numbers for your shipments.
Specialty Moves
Lewis & Michael is proud to be a specialized library mover. We have perfected the art of moving all types of libraries for the past 20 years. These have been public libraries, school libraries and private libraries.
Other specialty moves that we provide include office moves and corporate relocations.
Full-Service Movers
Enhance your moving experience with one of these many additional services we provide:
Re-installation of electronics and appliances
Custom crating
Packing/unpacking
Disassembly and reassembly of furniture
Storage
Lewis & Michael operates storage facilities in Columbus and Dayton, offering over 700,000 square feet of space. You can use our warehouses for large-scale inventory storage, or just to make a little extra room in your basement. We offer a wide variety of unit sizes to fit your specific needs.
For businesses, our warehousing services offer ample storage for all types of inventory and equipment. Thanks to our central location, we're 600 miles away from some of the biggest markets in the country including:
Atlanta
Chicago
Detroit
Washington, D.C.
Pittsburgh
Our storage services for businesses also include import and export shipping, online shipment tracking and one-on-one consultations on what type of storage solution would work best for you.
Ohio Moving Company
At Lewis & Michael, we are proud to not only offer a wide variety of services and excellent customer service, but to be an active part of our community. We are a family-owned and operated business and are proud to serve an average of 8,000 customers per year.
Let the experts at Lewis & Michael handle your moving and storage needs! Call us today at (800) 543-3524 or fill out our contact form.