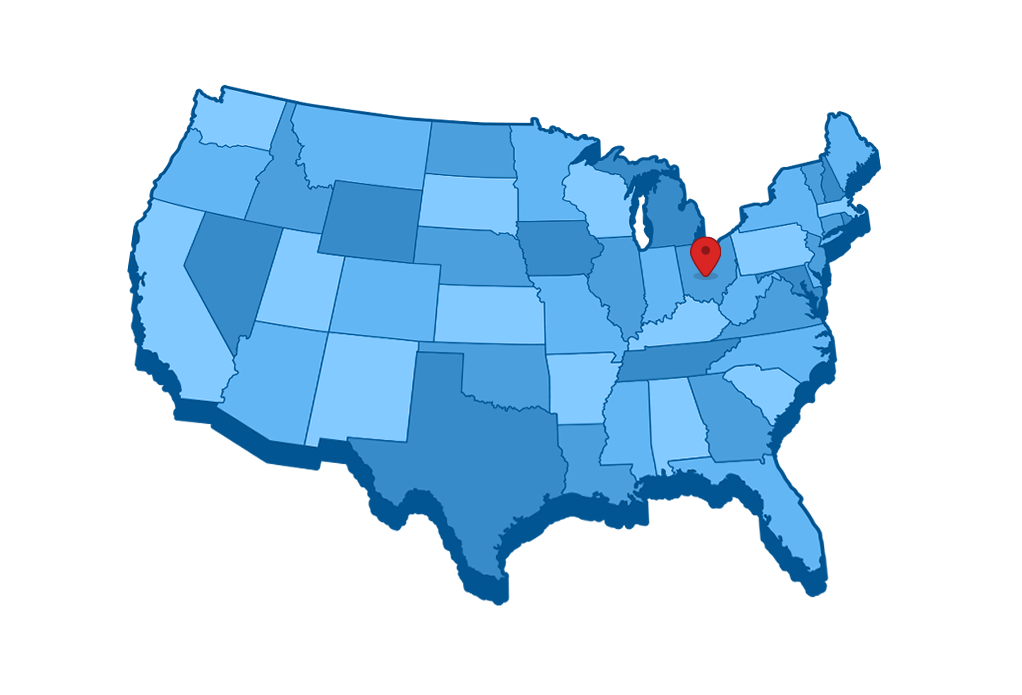 Long Distance Movers
Let the professional movers at Lewis & Michael Moving & Storage help you. We've been performing moves–long distance, local and international—since 1950. From free moving quotes to a complimentary moving counselor, we are dedicated to providing the best customer service.
Lewis & Michael Moving & Storage has been moving across the USA for over 70 years
Quick Read
Lewis & Michael Moving & Storage is your long-distance mover with locations in Dayton and Columbus. 
Our services include:
Packing services
Long-term & short-term storage options
Free moving estimates
Shipment tracking
Furniture assembly & disassembly
When searching for "long-distance movers near me," consider a moving company with the following features:
Customized moving plan
Designated moving counselor
Family-owned & operated
Fully-licensed & insured
How can we best serve you? Call us today at 937-665-0496 or fill out our online form for a free moving quote.
Is a new job, relationship/marriage, family situation, or desire to see the world allowing you to embark on a long-distance move to or from Ohio? Are you feeling overwhelmed and unsure of where to turn?
When searching for a long distance moving company, you'll want someone with experience who can understand the complexities of transporting your items far away. The last thing you want when you arrive at your new home is to open disorganized boxes, broken items, or things missing. With Lewis & Michael Moving & Storage, you'll never have to stress about things going awry.
Let us help you with your long distance move! Call us today or fill out our contact form.
Long Distance Movers Near Me
At Lewis & Michael, we take pride in serving our customers with unparalleled moving experiences. Our experience has made us top Ohio long distance movers. We're proud to have assisted in thousands of residential, corporate, military, library, and school moves.
Lewis & Michael are full-service movers and our additional amenities include:
Online Tracking of Shipments
Packing and Unpacking Services
Disassembly and Reassembly of Furniture
Free Moving Estimate
International moves is one of the services we offer that fit under the category of long distance moves. Our affiliation with Atlas Van Lines means we have access to service all over the world and country, meaning your international move will go smoothly. Our international moving services include:
Secure Storage Services
Inventory of Your Items
Online Shipment Tracking
When you book your long-distance move with Lewis & Michael, you can trust that you'll be receiving the best service and your belongings will arrive damage-free. If you're worried about all of the odds and ends that come with a long haul move, our moving counselor can help soothe your worries. Our moving counselors help create a detailed plan, organize logistics and can answer any questions you have.
In addition to our moving counselors, rest easy knowing that all of our employees handling your belongings are background-checked and extensively trained before showing up to your home. Many of our employees have been with us for years and are well-versed in our techniques and best practices.
We are committed to providing the best service and advice to our customers. One of the top advantages of hiring Lewis & Michael as your long distance movers is your own personal moving counselor comes complimentary with your move. Feel free to call or email your counselor to ask questions, adjust your moving plan, or for any moving advice!
Lewis & Michael
Before your long distance moving day approaches, contact the experts at Lewis & Michael. Our 50+ years in the moving industry have provided us valuable insight into what works and what doesn't. Lewis & Michael strives to make each moving process as stress-free as possible. We also know how to keep our customers satisfied!
Whether you're moving across state lines or international borders, Lewis & Michael is ready to assist you. Give us a call at (800) 543-3524 or fill out our contact form for a free moving quote today!