Columbus Long Distance Movers
Are you planning to move out of central Ohio? If you are looking to move across the United States or halfway around the world, Lewis & Michael Moving & Storage, Inc. can help get you (and all of your things) to your ultimate destination. With our partnership with Atlas Van Lines, we have the ability and flexibility to help alleviate the overwhelming moving process for you.
Our full-service moving company is well-versed in long-distance moving. Over the past 70 years, we've helped people coordinate national and international moves. We provide only the best service for our customers and understand the ins and outs of moving long distances.
The professional movers are Lewis & Michael Moving & Storage, Inc. have experience in both commercial and residential moves of various sizes. Whether you are relocating to or out of Columbus, Ohio, we can help you get to where you need to go.
Lewis & Michael's Columbus movers are committed to providing top-tier customer service for both commercial and local moving. We want you to save as much energy and time as possible during your moving experience. Our team will even help you with assembling/disassembling furniture or even packing as you wish.
We are an interstate agent of Atlas Van Lines, which means we are able to help you get anywhere you need to go. Atlas is one of the largest movers of household items in the country, so we have the experience and resources for all your moving needs.
Columbus Out Of State Movers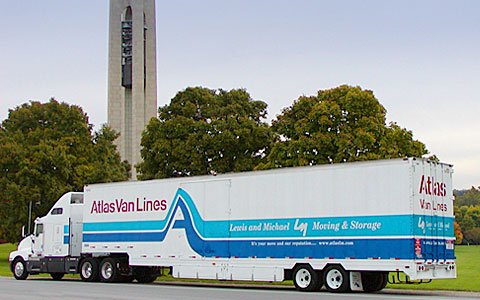 Lewis & Michael employees are dedicated to helping you save time and money while moving. We offer packing services and storage options to help you take what you want and store what you want to stay behind for a little while.
Relocating out of state can add a layer of stress and anxiety to a move. There is a lot to worry about and prepare for, so here are some steps to take when planning long-distance move:
Declutter your home. Sift through your belongings in the weeks leading up to your move and decide what you want to move, throw away or donate. Knowing exactly what you want to take with you will make the packing/unpacking process more simple.
Organize as you pack. Have designated boxes for your belongings and label them as you pack. This will give you extra time and add ease as you arrive at your final destination.
Familiarize yourself with your new home and city. Research the new town or city to which you will be moving. Will you be in need of additional storage space? Will you need help disassembling/assembling furniture or moving items up multiple floors? Preparation is key.
Request a Free Quote
Lewis & Michael Moving & Storage has helped thousands of customers just like you. We have 70 years of experience providing top-quality moving services. We are fully licensed and insured Columbus long distance movers, and we're ready to start this exciting process with you. When it is time to move, get a free quote from us today or call us at (614) 275-2997 so we can begin the moving process together.